The Denver Celiac Support Group became a chapter of the National Celiac Association in 2018 after 30 years as a local chapter of the Celiac Support Association.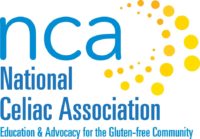 The chapter has been providing safe and reliable resources for those with celiac disease since 1987. From it's humble beginnings with less than 10 initial members, the Chapter has grown through the years to be the metro area's premiere resource for those living a gluten-free lifestyle due to celiac and gluten-related disorders. Our Chapter has made a lasting impact on our Community. Some highlights include:
The Denver Chapter received recognition in 2014 from the National CSA for excellence in actively serving our community.

The Denver Chapter makes gluten-free food contributions each year to local food pantries across the metro area, including the Loveland Food Bank and the Bienvenidos Food Bank in Denver.

In 2015 the Chapter contributed to efforts to rebuild the home of a member whose property was devastated in a natural disaster.

The Denver Chapter has worked with World Heritage International Student Exchange Program to place exchange students with gluten-related disorders in families that must manage the same restrictions.

Each year the Denver Chapter sponsors and supports kid's camps that cater to children with eating restrictions, such as Roundup River Ranch in Gypsum, CO and the American Diabetes Association's Kids Camp in Woodland Park, Colorado

.

The Chapter has held countless Neighborhood Noshes since 2000, bringing together members at local restaurants to share gluten-free meals.

For 11 years the Denver Chapter sponsored the largest gluten-free food fair in Colorado, the Incredible Edible Gluten-Free Food Fair, providing the community with access to the latest in gluten-free product options.

In the 1990's the Chapter curated and published a comprehensive gluten-free cookbook for members. While the Chapter no longer produces the cookbook, recipe and dining ideas can be found on our Facebook page and on our Twitter feed.